Just sit right back and you'll hear a tale, a tale of a fateful……………..renovation!    It's a fairly lengthy tale, so make sure you have a comfortable chair.   However, it's lengthy for a reason: when we began this project, the only option we considered was to make it as green as possible.   Fate lent a helping hand along the way, which I'll tell you all about soon enough, but for now, allow us to introduce the construction philosophy of Cornerstone Health Centre.
Not only were we interested in the ecological and environmental benefits of thoughtfully planned construction, but for us,  undergoing this project without the greatest degree of environmental sensitivity was not optional, as the clinic oftentimes sees patients with major environmental aversions.  As a result, things such as off-gassing chemicals and solvents were simply out of the question.  Reuse of demolition and construction materials was paramount, as was diversion from landfill.  Minimizing our carbon and ecological footprint was at the top of our minds at every stage.   This meant that we had to think about things such as whether the building products were sustainable, how much oil/energy was required to deliver them to Georgetown and what would be the impact of our decisions for the seventh generation.
We found ourselves a terrific contractor, one who shared our ideology, and encouraged us every step of the way to think differently.   Ben Polley, of Evolve Builder's Group in Guelph is not only a noted environmentalist, he specializes in eco-renovations and the construction of straw bale homes.  With his guidance and expertise, we set out for what we thought was a three hour tour……
(of course, you KNOW that the weather started getting rough….)
The Beginning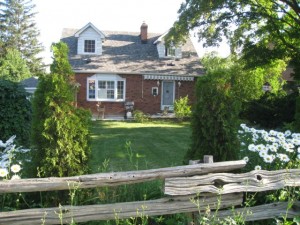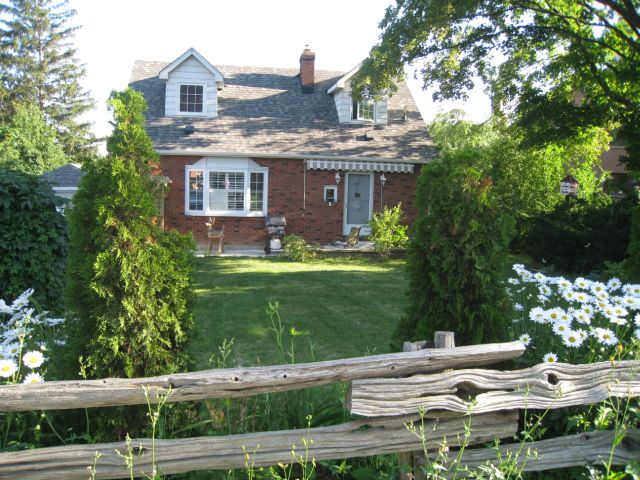 Back before we found the property in April of 2008, 6 Guelph St was a pretty, residential home, constructed in the Arts and Crafts architectural style of the era in which it was built.   Pleasantly set back from road, it featured numerous residential accoutrements, such as a detached single car garage, and a swimming pool in the back yard.
The bones were good – the roof was new, so were the windows, and the exterior brick was in great shape.
As a residence, however, the location was suspect – it fronted onto Guelph St/Hwy 7, which is the busiest artery through Georgetown.  As a business mind you, the location was superb.  More than 4000 vehicles a day pass by, and it is right on the edge of Old Downtown Georgetown.
Most exciting however, was our discovery that after many years of planning and review, the Official Plan for the Town of Halton Hills (of which Georgetown is part) was finally ratified and adopted.  The official plan classified the South side of Guelph St as part of the Downtown Core Sub-Area, which meant that this property could be zoned as Commercial, subject to the Town's planning process.
We contacted the Town, and met with Town planner Mark Kluge, who was to become a pivotal advocate for us in the onerous process of rezoning a property from residential to commercial use.  His advice, guidance and expertise made the process navigable and manageable.   Mark was a stellar resource for us at the Town.
Armed with a library of documents, we negotiated an offer to purchase, and bought the property.
We'll now fast forward several months in time, during which we dealt with Site Plans, Architects, Planners, Engineers, Lawyers and Surveyors.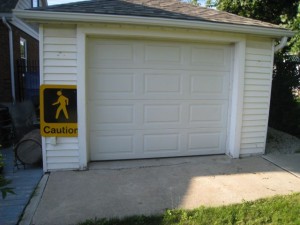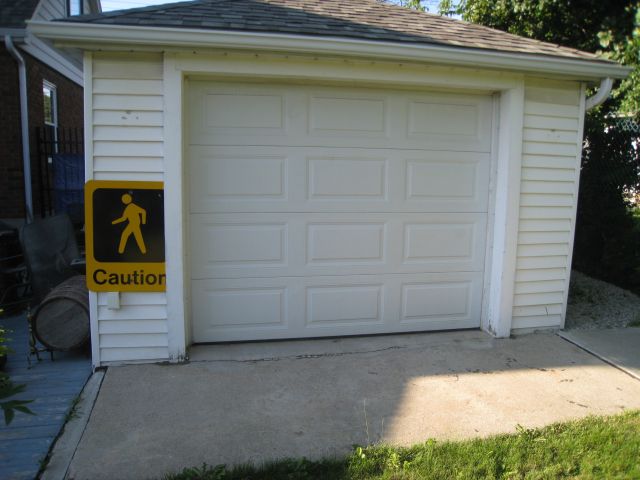 In the fall of 2008, and with our demolition permit firmly affixed in a visible location, we set out to remove the single car detached garage at the side of the house.  Once the working location of longtime Georgetown icon "Jake's Auto Clean", the garage was used in more recent years simply as storage.
The garage doors, frames and openers were removed, and with the help of the local Kijiji website, soon found a new home.
The vinyl siding and much of the lumber was reconstructed as a wood shed at the cottage property of Nicole's parents-in-law.  The aluminum eavestrough, soffits and fascia were welcomed as scrap metal at Wastewise, and the electrical panel, lighting and ceiling fans went to a friend.
In December of 2008, the Town passed a bylaw, approving the rezoning of the property to commercial use.   The site plan was approved, and we moved forward with the interior renovation plans.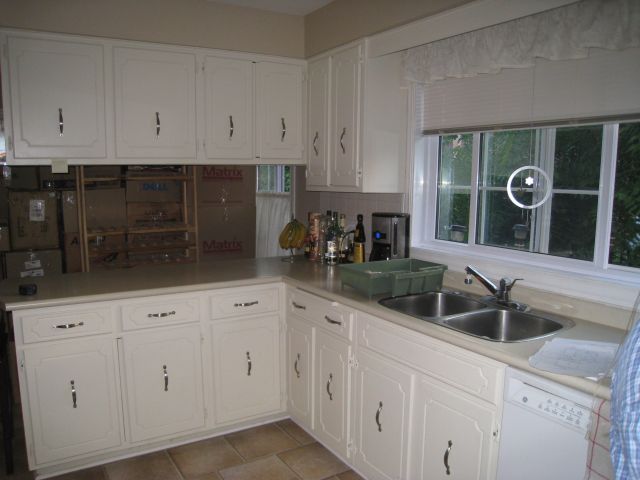 We hadn't planned very significant interior renovations, as the layout of the house was fairly workable.  The only major exception was the removal of the existing kitchen to make room for a wheelchair-accessible bathroom.   The strip-maple hardwood floors were in excellent shape, as were the plaster walls and ceilings, trim and baseboards.
For the most part, the existing rooms on the main floor were to remain intact, with the addition of one or two new walls to support the commercial fire code regulation that stipulated interior stairways were to be blocked off with fire-rated entrances.
The two rooms on the second floor were envisioned as treatment rooms, with only a slight shift of a wall to make better use of storage space, and the creation of a second floor waiting room.
The second floor bathroom was to remain intact, despite its godawful decorating scheme.  Renovation of that bathroom would have to come at a later date.  Little did we know….
The Middle
In late January/early February of 2009, we negotiated a renovation contract with Ben Polley from Evolve Builder's group.  In consultation with Electricians, Structural Engineers, Plumbers and Ben, we arrived at a statement of work that met our needs, both from a functional standpoint, and from an ecological standpoint.   Commercial renovation is not like residential renovation – you cannot do any of it yourself.  Anything that involves building code may only be performed by a licensed tradesman, with the appropriate permits registered with provincial authorities, and subject to numerous inspections by Town officials.
On Tuesday,  February 9, 2009, Ben arrived at the house with his electrician, to finish scoping out the electrical work.   He had a key that had already been provided to him by us.  When he opened the front door on the main floor, he stepped into three inches of water.
I'll repeat that again.  There were three inches of water on the entire main floor of the house.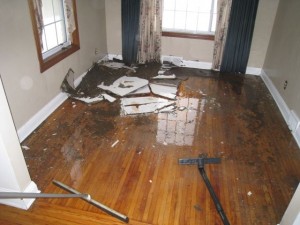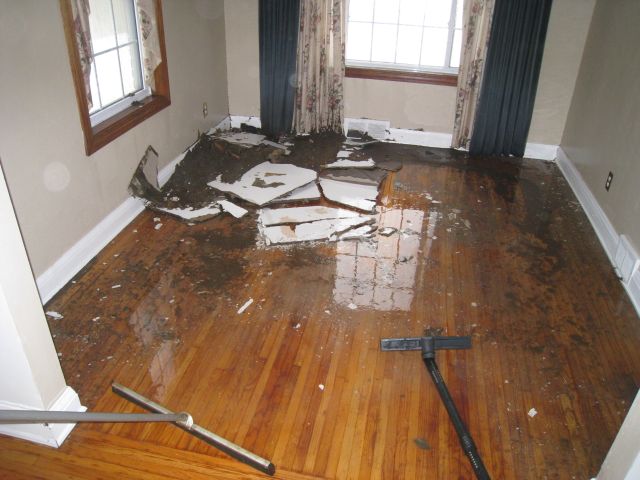 Sometime over the weekend, the exterior temperature dropped quickly, from just around freezing, to minus 28.  A wayward feed pipe in the upstairs bathroom had separated at a poorly welded elbow, due to ice expansion inside the pipe.  We discovered that the bathtub in the upstairs bathroom had been plumbed on the exterior, uninsulated wall.  From the time the pipe burst, to when we shut it off, more than 8000 litres of water flowed into the walls and ceilings of 6 Guelph St.
Not only did the water flow into the walls and ceilings, it flowed into the registers and cold-air returns, into the ductwork, and into the furnace.  It flowed into the light fixtures, it flowed into the light switches, and it flowed into the receptacles.  It flowed into the hardwood floor, the fireplace, and it flowed into the trim.
And gravity being what she is, the water found its way into the partially finished basement, flowing into the joists, into the drywall, into the wiring, and into the doors.
Now, we were faced with a serious dilemma.   We had to act fast – there was no way we could allow water to sit damp inside anywhere for any amount of time!  The threat of mold growth was real and completely unacceptable for a naturopathic clinic.
Very fortunately, we had a partner, in the form of Gore Mutual Insurance.  Gore understood our predicament, and pulled out all of the stops for an emergency demolition.  They were understanding when we explained our fear of mold penetration, and how we could not permit industrial chemicals to be sprayed in what was to become a Naturopathic Clinic.   They took the time to understand our business demands, and accomodated our requests, so much so, that they suggested an all-natural mildew-cide comprised of 98% Thyme Oil.   The Benefect Disinfectant was 100% effective, such that subsequent mold-sniffing equipment was not able to detect any trace amounts of mold afterwards.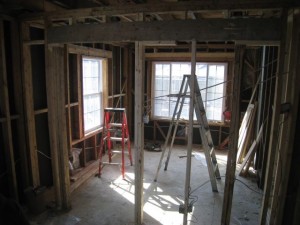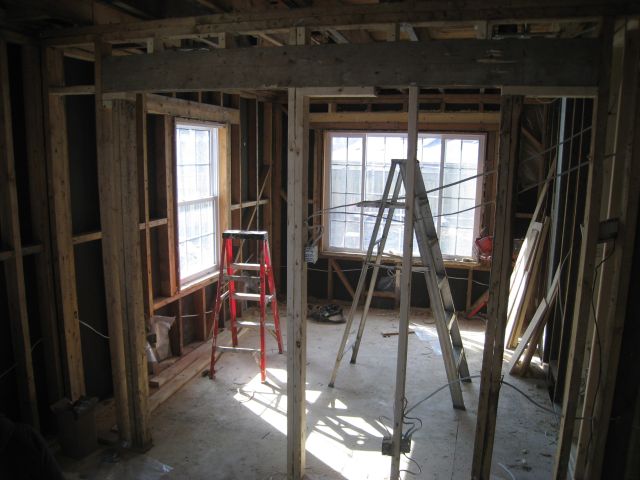 We shortly realized that most of the walls and ceilings were not drywall – they were plaster.   And unlike drywall, plaster never dries, once it has been water-damaged.  The only option was to remove all plaster.  This resulted in the main floor being gutted to the studs.  The walls in the partially finished basement were simply destroyed, and also required removal.  Fortunately, the bulk of the entire second floor was spared.
We had great plans for the solid maple strip flooring that ran the length of the entire main floor.  Unfortunately, soaking maple strip and then quickly drying it tends to alter its integrity.  We watched in horror as it twisted, rose, cracked and split right before our eyes.
Once the plaster was removed, we were treated to the sight of cloth-covered wire distributed throughout the entire house.  While code-appropriate for the age of the house, once exposed to water, the copper wire inside quickly corrodes, and becomes a serious fire hazard.  There was no easy way to determine which wires were corroded, and which were not, so the only safe apporach was to rip out all of the existing wiring, most of which travelled all the way down to the electrical panel.
The New Beginning
Believe it or not, we came to realize that the broken pipe and resulting water damage was actually a blessing in disguise.  It allowed us a fresh start, and although we would rather not have the waste stream from the emergency demolition, it did give us control over which materials went into the reconstruction.  This is where we were able to make the greatest impact in ecological material selection.
Insulation: Once the walls and ceilings were down, we determined that the existing 1″ thick paper insulation provided an approximate R value of 1 to 1.5.  We replaced it with 3.5 inches of Roxul brand insulation.  Roxul is a stone wool made in Milton, ON, and is created from Basalt rock and recycled slag – a waste product of Hamilton's steel mills.   It is an excellent insulator, and in fact saves 12 times as much energy per pound in its first year in place as the energy used to produce it.  We also embedded Roxul in the interior walls to meet commercial fire code, which also helped soundproof all of the interior walls.   We wanted better and more exterior insulation, yet were hindered by the fact that the walls were simply 2×4 construction.  Our contractor Ben, suggested a styrofoam vapor barrier, but was hesitant to recommend styrofoam due to the solvent-based adhesives used to secure it in place.  In addition to the off-gassing of adhesives, once styrofoam is glued to wood, it can never be recycled, and is destined to take up space in the landfill.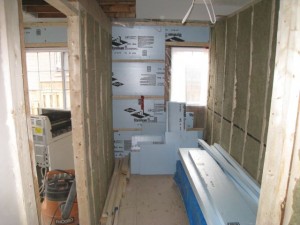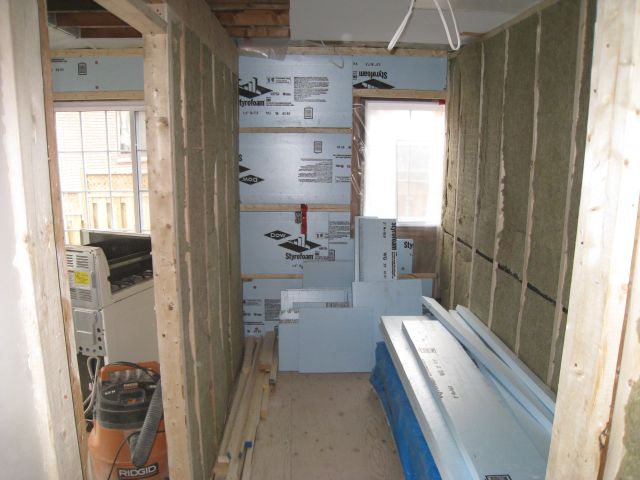 We came up with a clever idea for increasing the R value of the home.  Following the installation of the vapor barrier, we had a 2×6 nailed lengthwise along the bottom of the floor, so that baseboard and trim could be affixed properly at a later date.  We then simply laid a 2×6 sheet of 2″ styrofoam lengthwise on top of the 2×6, and placed a 1×2 lengthwise along the top of the styrofoam sheet.  The 1×2 wooden piece was nailed to the studs, and held the styrofoam in place.  Theoretically, the sheet of styrofoam could be removed, if pulled straight out at a 90 degree angle, as there is nothing connecting it to the walls behind.  Although it reduced the floor space of the rooms on the main floor, this insulation solution brought the house from essentially RZero to R22.
We also needed to insulate the ceiling and roof on the second floor, as the existing spray-in insulation was removed during the deconstruction.  We insulated the entire roof of the house with dry-blown insulation comprised of 100% recycled shredded newspaper,   preserved with Borax, a common mineral salt.  This is a tremendously effective insulator, with zero volatile organic compounds, CFC's or other toxic substances.  It brought the ceiling insulation to R50.
Floors
We considered using sustainably harvested flooring products such as Bamboo, but had a difficult time finding an authentic provider of recognized sustainability, who used non-volatile finishing compounds.   Combined with the massive ecological footprint of shipping Bamboo halfway across the world, we elected to finish the main storey floor in  Canadian maple, from a conservation grade, locally harvested, and FSC-certified sustainably-managed maple forest.    The cost was comparable to the Bamboo and other exotic hardwoods we had considered, but with greater durability, and a lower carbon footprint associated with the supply chain.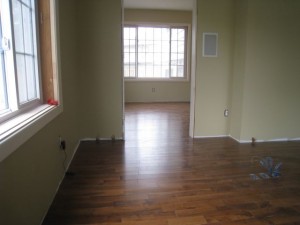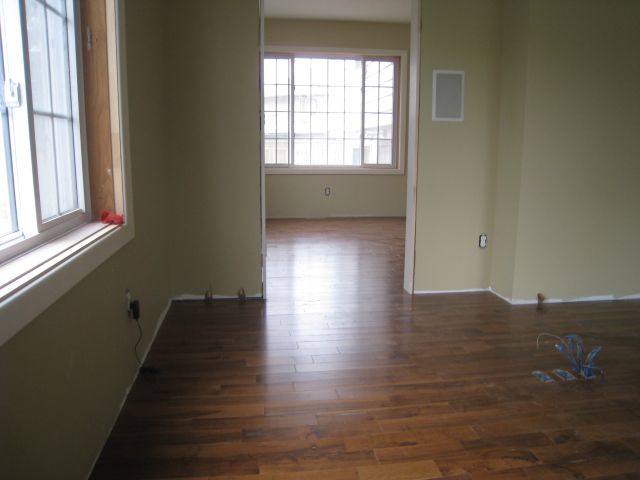 The floors in the 2nd floor treatment room were simply sanded clean, and finished with a mixture of natural oils.
The floors in the dispensary and second treatment room were finished in cork tile.  Cork, despite having to be transported from western Europe, is a sustainably harvested product, in which single layers of the the bark of the cork tree are gently removed, causing no damage to the tree.  Cork was selected for these floors, due to the anticipated use of the rooms by practitioners who spend all day on their feet (e.g. Registered Massage Therapists, Osteopaths)
The beautiful tile you see as you enter through the main door and in the bathrooms was lovingly laid by Nicole's father, who is a professionally-trained European stonemason, using locally sourced tiles and grouts.  In addition, the stone on the fireplace is real stone, locally sourced, and laid by Nicole's father, Nick Meier, of Northumberland Tile.
Walls and Doors
With the amount of wall and ceiling space that needed to be installed, it was imperative that we chose the material carefully.   As a result, the walls and ceilings were constructed of partially recycled drywall, reclaimed from post-construction sources.   The drywall is EcoLogo certified, and is manufactured in Mississauga, ON.
We couldn't allow for surface preparations that could potentially off-gas for up to 6 months, so all of the walls, ceilings and trimwork was finished with Farrow & Ball zero-VOC paints.  Farrow & Ball still make their paints in large colour batches, using no polymer-based pigments, and continue to use all-natural ingredients such as chalk and clay  in the formulation of their paints.  Clay provides the bulk or depth to the paint rather than the ordinary chemical bulking agents in conventional paints.  The paint uses a water based solvent which helps contribute to its low and zero volatile organic compound (VOC) status and ensures fresh smelling air even immediately after application.  The special paint over the original fireplace brick surround is a silicate based paint made in small batches in New Brunswick and consisting of 99.9% natural mineral ingredients while providing a permanent, non-removable surface.
Many of the interior doors had to meet commercial fire-code regulations, and as such, had to be of a specific weight, density and material base to comply.  We elected to source solid wood doors that met code regulations, but that had minimal carbon footprints associated with them.  Our doors were built in Kitchener-Waterloo, using locally sourced wood, and traditional craftsmanship methods.  In fact, all wood used in the reconstruction of the clinic was FSC-certified wood.  We think the Forest Stewarship Council reflects sound environmental practices, and we were happy to support their efforts.   FSC is a third party certifying body that is indepdendent of industry associations and they ensure a chain of custody from woodlot, through production to the retailer that the wood has been harvested in a sustainable manner, among other key principles of environmental production.
Utilities
Because the water damage destroyed the furnace, and because engineering and fire-code regulations required the redesign of the basement, we elected to install the most energy-efficient appliances and fixtures possible.   To this end, we decided that any new appliance that would consume energy in the building should be no less than Energy Star 4 certified.  This included a York Affinity Series 9C gas furnace, that is rated at an astounding 98% efficiency, and uses a variable speed DC motor to regulate the speed of the flow of air.  The furnace is mated with a matching York LX Series 14.5 SEER air conditioning unit, that has scimitar-shaped fan blades on the condenser to reduce outside noise.  In fact, the outside condenser unit is nearly silent, reducing our overall impact on the exterior environment.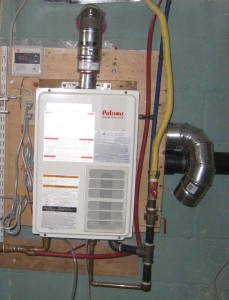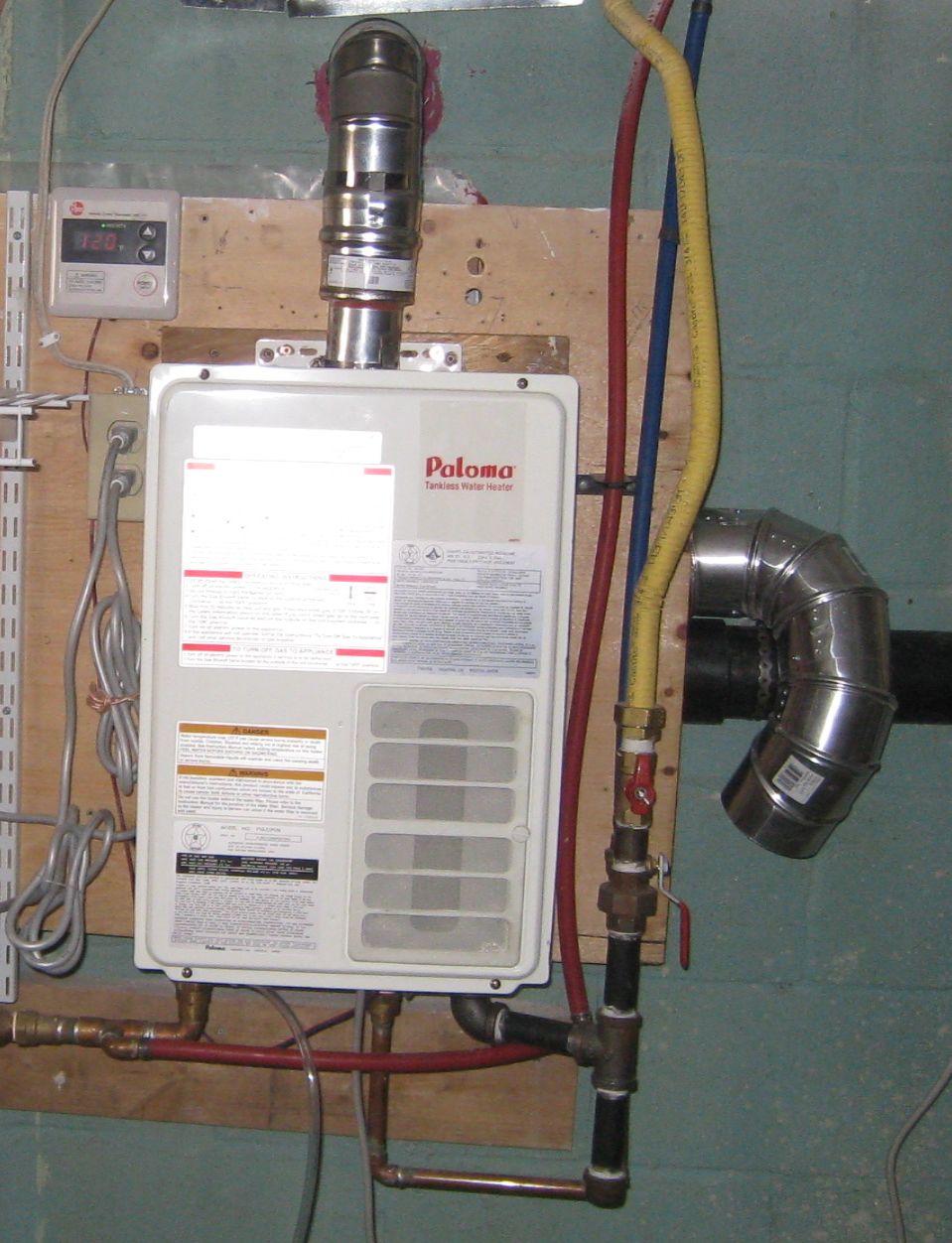 We also installed a Paloma Tankless water heater, that heats water on-demand.  As you can imagine, there's not a lot of call for hot water in an office, so we decided there wasn't much need to keep 60 gallons of water on hot-standby in a conventional tank (at only 60% efficiency, no less!).   If you aren't familiar with Tankless Water heaters, I suggest you look into them; our experience found that the combination of fuel savings and the elimination of rental fees will pay for the cost of the heater within 18-24 months.
We thought carefully about how we would provide purified drinking water.  After careful research, we selected a Watts Premier Zero-Waste Reverse Osmosis system, for purified drinking water.  We chose this specific model and brand for its small ecological footprint.   Detractors of Reverse Osmosis purification systems often cite the excessive waste water generation of most reverse osmosis systems.  And it's true – most RO systems waste 4 litres of perfectly good water down the drain, for every litre of water they purify.  Not this system, however.  Rather than sending the excess water down the drain, this unit uses a small electric pump to pump that water back into your hot water pipes, where you can use it for washing dishes, clothes, showers, etc.
Plumbing fixtures include low-flush two-stage toilets (less than 4l per flush), low-volume faucets, and an innovative shower head from Waterpik that maxes out at 2.5 GPM, while still providing a rainshower-like sensation.  Give it a try!
Electrics
All of our lighting systems use low-wattage bulbs to maximize energy efficiency.  As well, most of the lights in the treatment rooms are on dimmers, and are mounted as potlights in the ceiling.  Even more importantly, however, is that the windows in the office are so large and so bright, natural light obviates the need for electric lighting during most of the daylight hours!   I'll take sunshine over electric light anyday!
A colleague at the Township of Guelph Eramosa (the mayor, actually) mentioned to me once that the Township was going to replace all of the lights inside their "EXIT" signs with compact fluorescent bulbs, as EXIT signs have to be on 24 hours a day, seven days a week.  They expected to pay for the cost of bulb replacement in all municipal buildings (fire stations, rec centres etc), through increased energy efficiency, in less than TWO months!  We decided to go one step better.  All of our EXIT signs use red LED lights inside.  The electrical cost associated with running all of those EXIT signs in our office is estimated at less than $3/year.
Modern offices need computing equipment, and again, we thought long and hard how we would reduce our energy consumption when it came to computing needs.  Space was at a premium, and we wanted to ensure ease of use, while still addressing our computing needs.   Most modern desktop workstations have powerful processors in them that consume a lot of electricity (and generate a lot of heat), and have elevated power requirements to power peripherals such as hard drives, CD ROM drives etc. In fact, the power supplies on most desktop workstations are often rated in excess of 450W, and that's excluding the monitor!
After some careful research, we discovered that Intel had recently created the Atom processor, which was designed as a low power-consumption CPU.  The tradeoff is speed, but the benefit is decreased power draw.   And even more recently, Intel had released a dual-core version of the processor, to address some of the peformance issues customers had complained about.   Dell Computer has released a business computer called the Optiplex 160 Tiny Desktop that uses this Intel Atom dual-core processor.  They've engineered a very clever computer case that is no larger than a small textbook, fanless, and has no moving parts, while still dissipating heat.  Its power supply is 87% efficient – good enough for an Energy Star 5 rating, which is nearly unheard of for computers.  The average power consumption of this little PC is around 15W, with a maximum power draw of 50W.
Furniture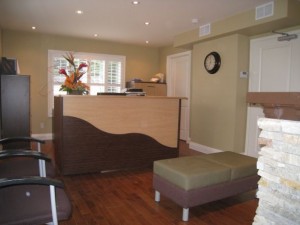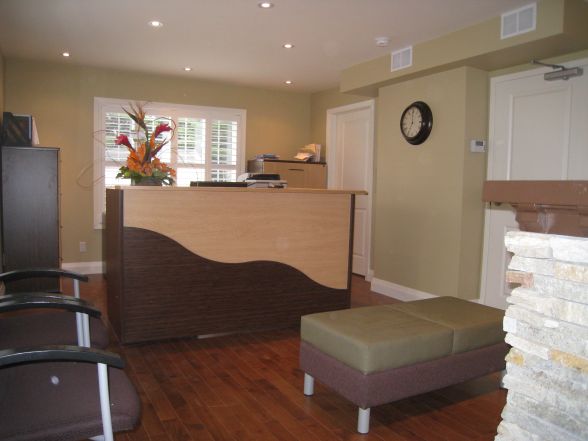 When it came time to source office furniture, we spent a considerable amount of time researching environmentally-friendly manufacturers.  To be honest, we simply didn't trust that products manufactured in China would adhere to the same environmental standards as products made in North America.  But try to find anything that's not made in China these days, which of course means an increased carbon footprint.    But late one evening, during a desperate and heretofore fruitless session of Googling, we struck gold.  We found a maker of office furniture who was committed to ecological practices and the use of environmentally friendly materials, that was still within our budget.
Even more startling was the discovery that this manufacturer was in our own backyard – located on Armstrong Avenue right here in Georgetown!    BRC Canada is a leading manufacturer of office furniture that has no VOC or formaldehyde off-gassing, and has implemented a sound environmental policy.  In fact, they're so confident in their products' ecological footprint, that they publish their policies, environmental statements, and off-gassing test results, publicly on their website!  When you factor in the neglible carbon footprint of the distribution chain, the decision was a no brainer.   As a result, all of our reception area furniture was provided by BRC.
As well, we considered the materials used in the construction of all our reception area and office chairs.  We needed durability;  seating surfaces needed to be tough enough to withstand daily public use.    But they also had to meet our criteria of reduced ecological and carbon footprint.  As a result, we settled on chairs from Global Furniture that use 100% recycled material for all of their seating surfaces.
Outside
Not surprisingly, it's difficult to minimize the environmental impact associated with paving over 70% of a property's lot, in order to provide the parking spots required by a busy naturopathic clinic.  We agonized over this decision, swaying back and forth between providing a gravelled surface, using reclaimed asphalt, or virgin asphalt.  In the end, we elected to use a deeper base, and a thicker layer of virgin asphalt, so that we wouldn't have to redo it in 10 years.    Asphalt is hardly an environmentally-friendly building material, but if you're going to use it, at least do it well enough that it won't have to be redone anytime soon.  We decided against gravel, as it is effectively unplowable in winter, and would be too difficult for clients with mobility problems.  Perhaps by the time the surface has to be repaved, our recycling technologies will have advanced sufficiently, such that we may have other options.
The one decision we were happy with had a lot to do with Georgetown's battles with various gravel pits over the last few years, and the constant destruction of the Niagara Escarpment for aggregate.   A commercial parking lot has to be built to withstand commercial traffic (as opposed to residential) which means that it's aggregate base has to be much deeper, and much more solid.   Rather than contribute to the aggregate problem of the Escarpment, we were able to use recycled concrete (in 2 inch chunks) for our base.  This was a bit of a hit and miss option, as sufficient volumes of quality recycled concrete is not always available.  But timing prevailed on our side, and our excellent excavation contractor, Snow Brothers Contracting of Erin were able to procure enough for our parking lot.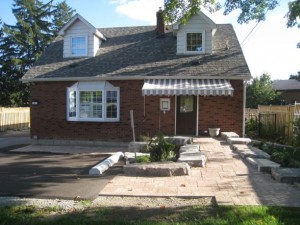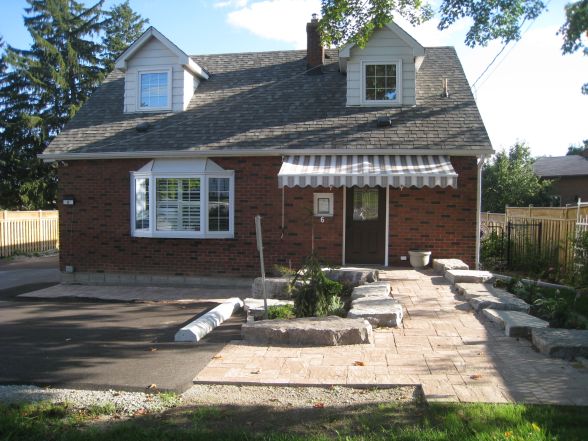 We also needed a wheelchair ramp in order to complete the barrier-free designation of the building.  Barrier-free equates to wheelchair accessibility, and while this wasn't mandated by commerical building code, we elected to make the buidling barrier-free, as we have some clients who find steps challenging.    We were hesitant to build a wooden wheelchair ramp, as it would have required the use of pressure-treat lumber, and we often find wooden ramps unsightly.  But we found an excellent solution, in the beautiful designs of Tom Cavan, of Calipre Designs.  Tom designed and built us a beautiful entrance to the building, incorporating local armor stone and interlocking brick from Georgetown's own Unilock.
It provided the perfect balance of aesthetics and function, and is so discreetly engineered, we call it the un-wheelchair ramp!
We still have some finishing touches to peform, mind you, but you can rest assured they will be done with the same careful forethought that went into the rest of renovation.
Conclusion
An eco-renovation does not have to be more expensive than any other renovation.  It does, however, require significantly more forethought, about 10 times the number of decisions,  and the understanding that energy-efficiency efforts can be offset by demanding, carbon-intensive supply and distribution chains.  The correct answer is not always the right answer.  A chinese teak forest that has been clearcut to provide rapid-growth bamboo, which in turn has been treated with chemical pesticides and VOC-intensive finishes, and then shipped by carbon-heavy methods halfway across the planet is not necessarily a better solution than good old-fashioned local maple, rubbed with tung and linseed oil.
But with some careful planning, and some decent research tools (thanks Google!) an eco-renovation project can be done in a cost-effective and low-impact fashion.  Despite having the databases of the world at our fingertips, by far the most valueable source of information, BY FAR, was our contractor, Ben Polley.  A reputable contractor who specializes in ecological renovations will give you things to think about that you never even knew existed.    Before you read this story, did you know you could buy recycled drywall?   Did you know that you don't HAVE to buy those cheap slab doors at the big box stores, and that you can get solid wood doors for not much more, within 50 km of you?  Did you know there even was such a thing as shredded paper insulation?  We didn't.   But we do now, and now, so do you.
If we've even given you one "a-ha" moment, then we've met our measure of success.   If you'd like others to read this, please either email them the link to this page, or share it on Facebook using the links below.  But at the very least, the next time you undertake a renovation project, we expect you to do it with some green building principles in mind.  It's not hard, and if everyone does just a little bit, it'll make a huge difference to this world in which we live.
Yours in health,
Nicole Meier
ps.   Ben Polley is at www.harvesthomes.ca.